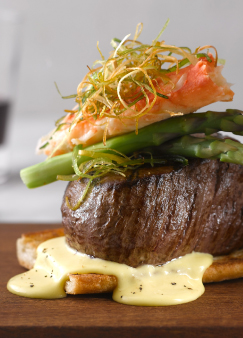 Classic Meets Contemporary
Marrying classic with contemporary, the selections from the Queensview Steakhouse menu will surprise your senses from start to finish.  Each dish is a culinary showcase of flavor, innovation and presentation.
Choose from a selection of signature appetizers and salads; prime steaks and chops; the freshest grilled fish and lobster; sensational sides and decadent desserts. A Wine Spectator award-winning wine list, along with live music and 360◦ views complement this truly special dining experience.